Industrial demolition is a science that requires sophistication and precision.
With some of the most complex projects in the industry, industrial demolition is a science that requires sophistication and precision. Elder Demolition uses specialized equipment that maximizes a project's safety, removes hazardous materials and makes you an environmental steward. When you need industrial demolition, we will manage all the aspects of your project, even those you might not expect.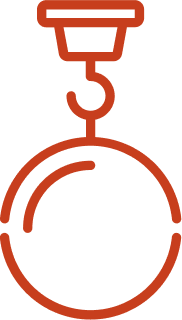 Building-related debris accounts for up to 40 percent of waste in landfills. Only about 20 percent of construction and demolition waste is recycled. Elder Demolition is dedicated to changing these statistics. Industrial demolition in Oregon produces thousands of tons of debris. To divert waste from landfills, we use techniques such as:
Deconstructing buildings to salvage architectural elements, pipes, copper wiring, flooring, windows, fixtures, appliances, machinery, bricks and other materials that you can reuse or sell
Sorting materials that you can recycle, reuse or sell, including concrete, metal and wood
Reusing materials on-site, such as concrete that we crush into gravel
Diverting hazardous materials to the proper processing facilities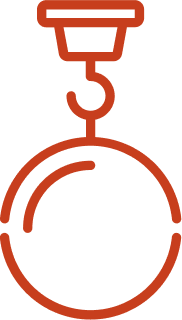 In the industrial demolition industry, it is a health hazard that could lead to serious respiratory illnesses because of particles like asbestos, lead, crystalline silica and histoplasmosis, a fungus found in bird droppings. Elder Demolition uses a variety of techniques to control dust:
Providing workers with protective clothing and gear

Creating negative air pressure enclosures

Wrapping buildings in an airtight envelope to contain toxic dust


Using dust-minimizing demolition equipment and techniques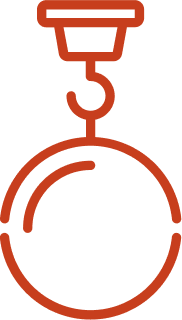 Industrial demolition has the potential to release a significant number of contaminants that pose health and environmental hazards. To minimize air pollution during projects, Elder Demolition employs the following tactics:
Dust control techniques

Ventilation tools and fans to depressurize areas

Cleaning surfaces regularly


Using vacuums with HEPA filters
Blue Heron Paper Mill is approximately 23-acre property located in the heart of downtown Oregon City and along the shores of the Willamette River. Elder Demolition was contacted by Confederated Tribes of Grand Ronde to provide demolition of paper mill buildings. Due to the complex nature of the location of the existing paper mill and the historic side of the property, the Confederated Tribes of Grand Ronde divided this demolition into multiple phases.
Breaking ground on Phase 1 in 2021 included removal of Mill E Complex, Water Filtration Plant, and Tipper Building as well as misc. shops. Phase 2 began in 2022 which consisted of Mill D, No. 2 & No. 3 Paper Machine Buildings. Both Phases consisted of complete removal of buildings, processing concrete and backfilling of basement voids.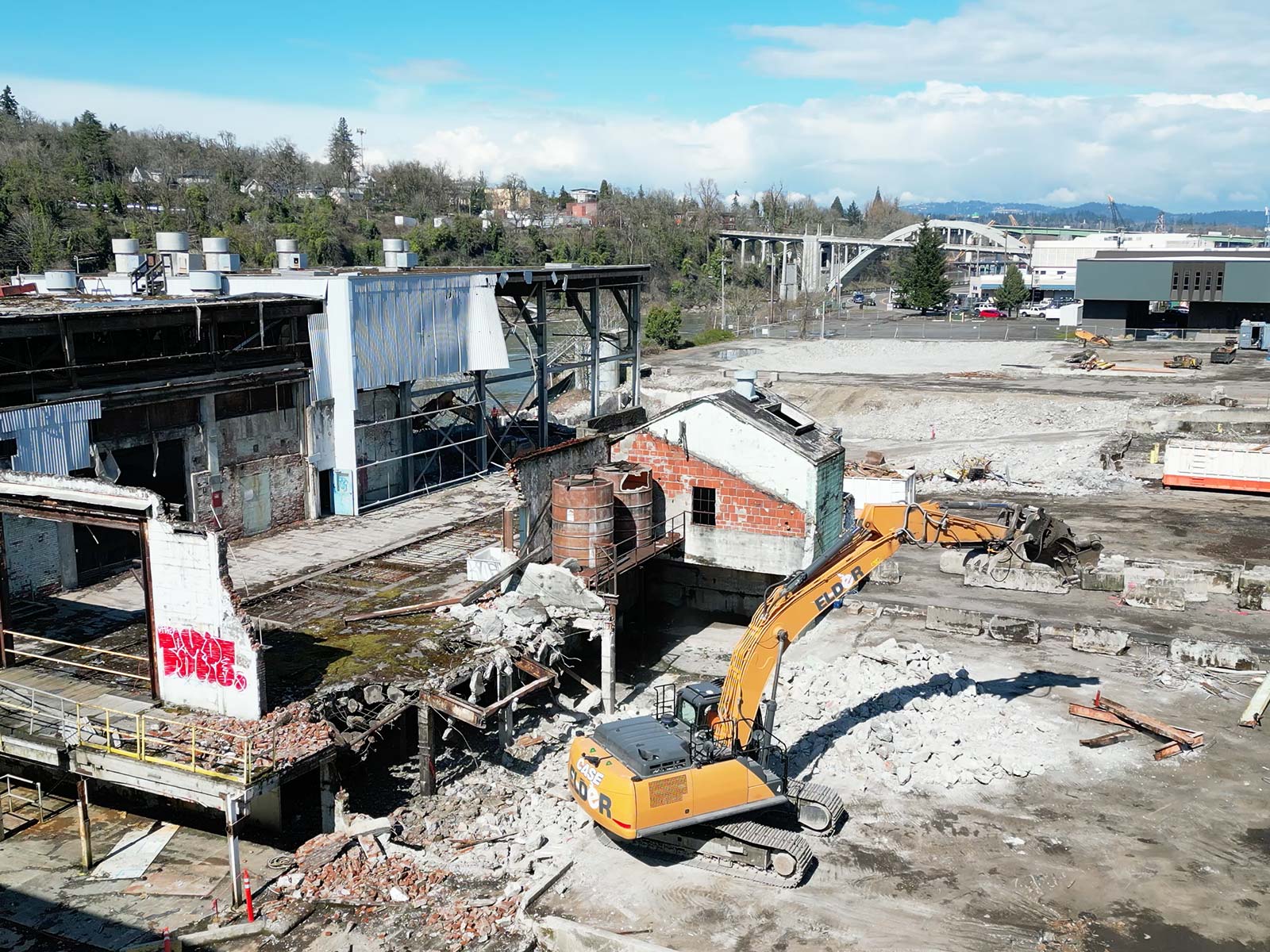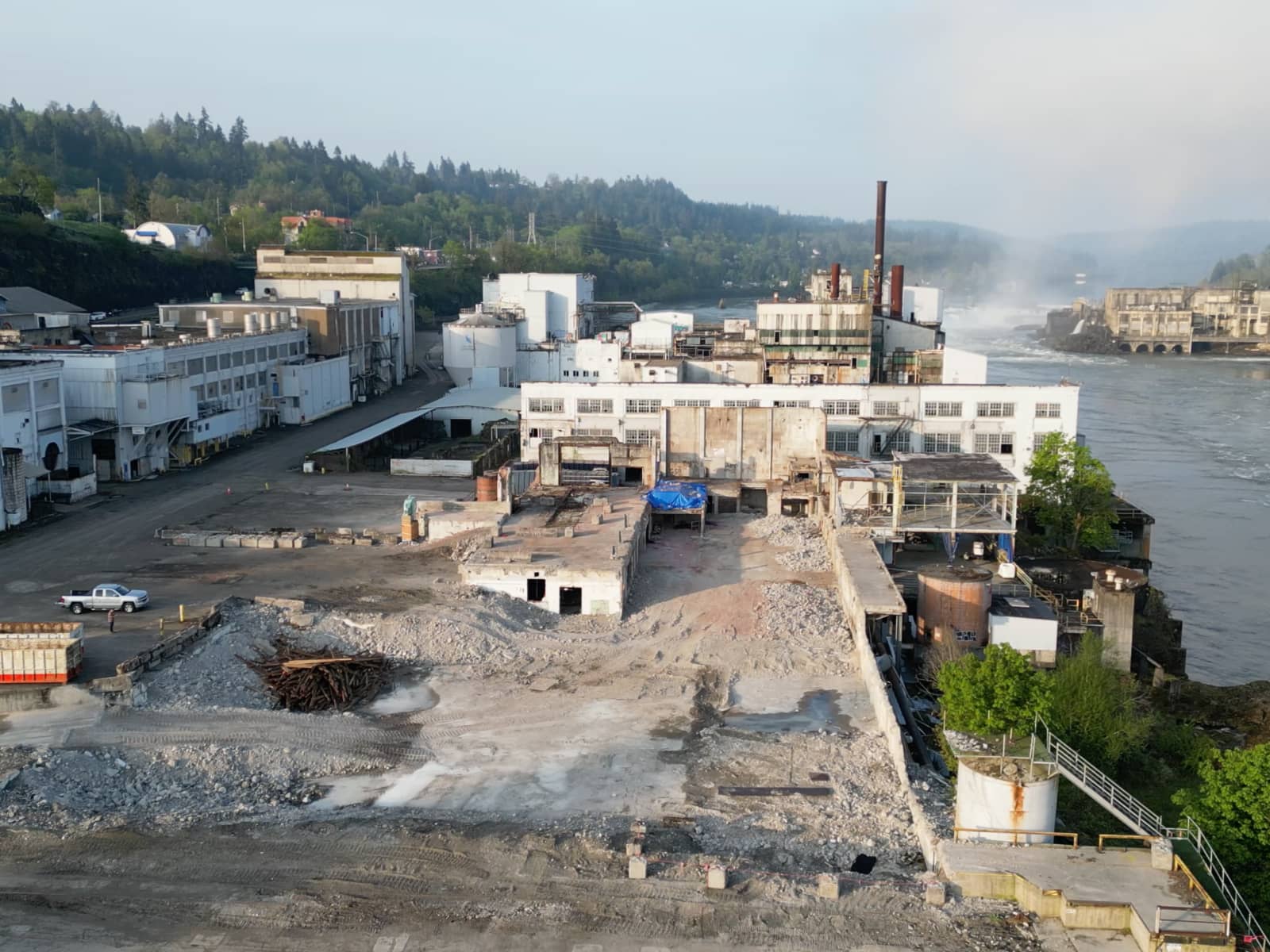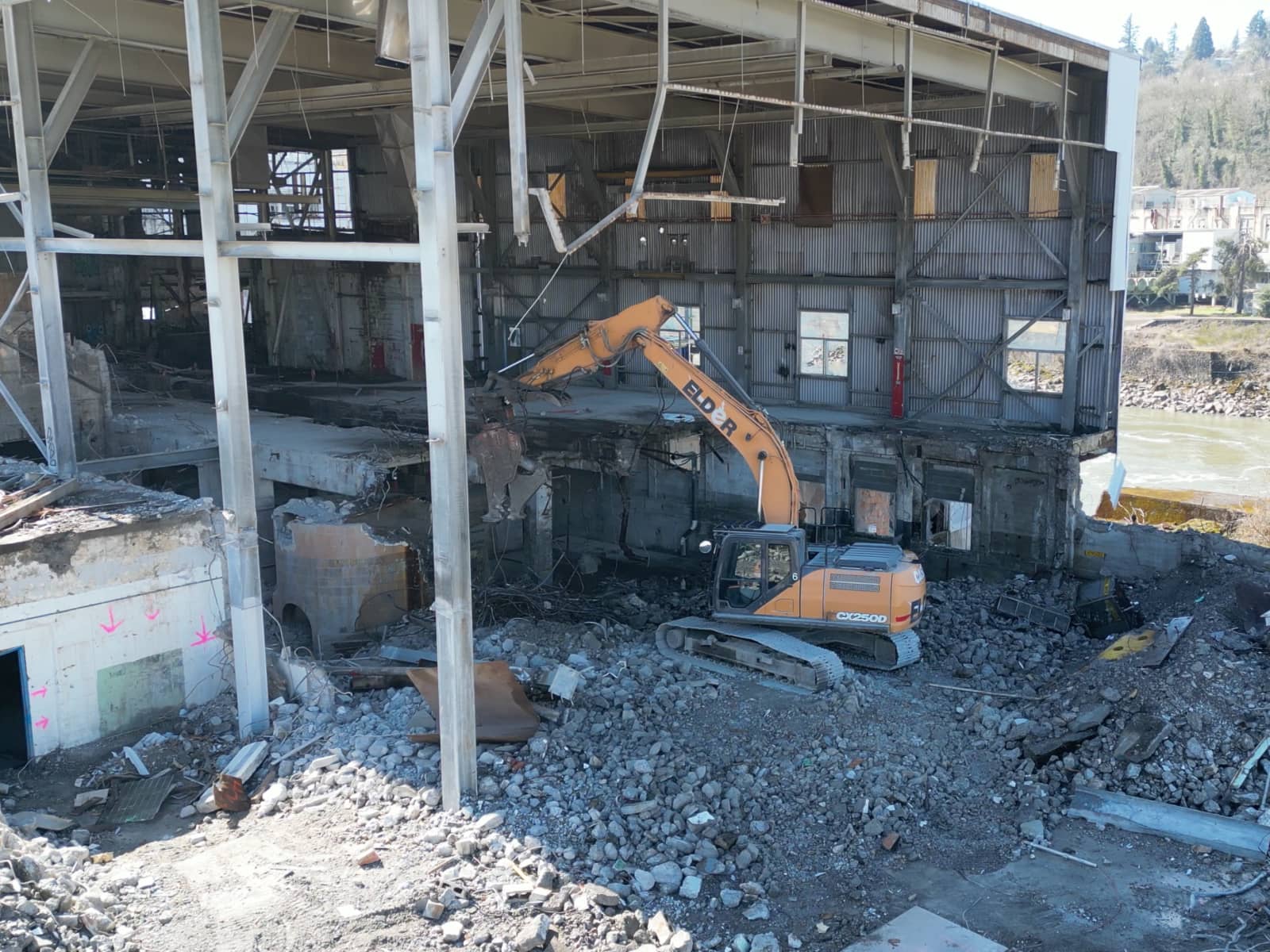 Elder Demolition Difference
Why choose Elder Demolition for your project?
When tearing down a building, you have one chance to get it right or face expensive consequences. The best demolition contractors have a team of trained professionals that specialize in risk management. Elder Demotion takes this a step further with benefits and services that set your project up for success.
With more than 25 years of experience, we have established processes based on best practices and our wealth of experience to ensure the safety and timeliness of your projects.
Elder is a full-service demolition company that offers industrial, commercial, residential, scrap metal, and green demolition. We also provide asset recovery, hazardous material handling and removal, concrete crushing services, and more.
Our services include an eco-friendly approach that protects the environment and mitigates pollution and waste.
Elder owns a fleet of specialized top-of-the-line machinery that allows us to take on projects other demolition companies cannot.
We salvage materials and turn would-be waste into profits you can use to offset project costs.